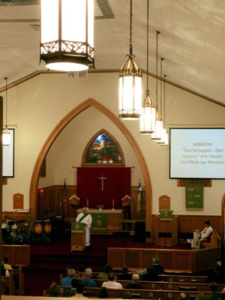 Contemporary Worship – 8:10 am
Our 8:10 worship service is a less formal worship experience featuring current worship music as well new hymn arrangements while retaining some elements drawn from liturgy.
Fellowship – following Contemporary Worship Service
Fellowship time is the 2nd Sunday of each month in the Spirit Center.
Sunday School – 9:30 am
Traditional Worship – 10:45 am
Our 10:45 worship service is a traditional worship experience utilizing liturgy and hymns from the rich heritage of the Lutheran church through the ages.
Mobile Homebound Communion – 4:30 pm – 3rd Sunday of the month in the sanctuary!
This 30 minute service is designed for those who are unable to join in worship on Sunday mornings. Specifically, this could be for those with health & mobility concerns or those that work during typical Sunday morning worship times.